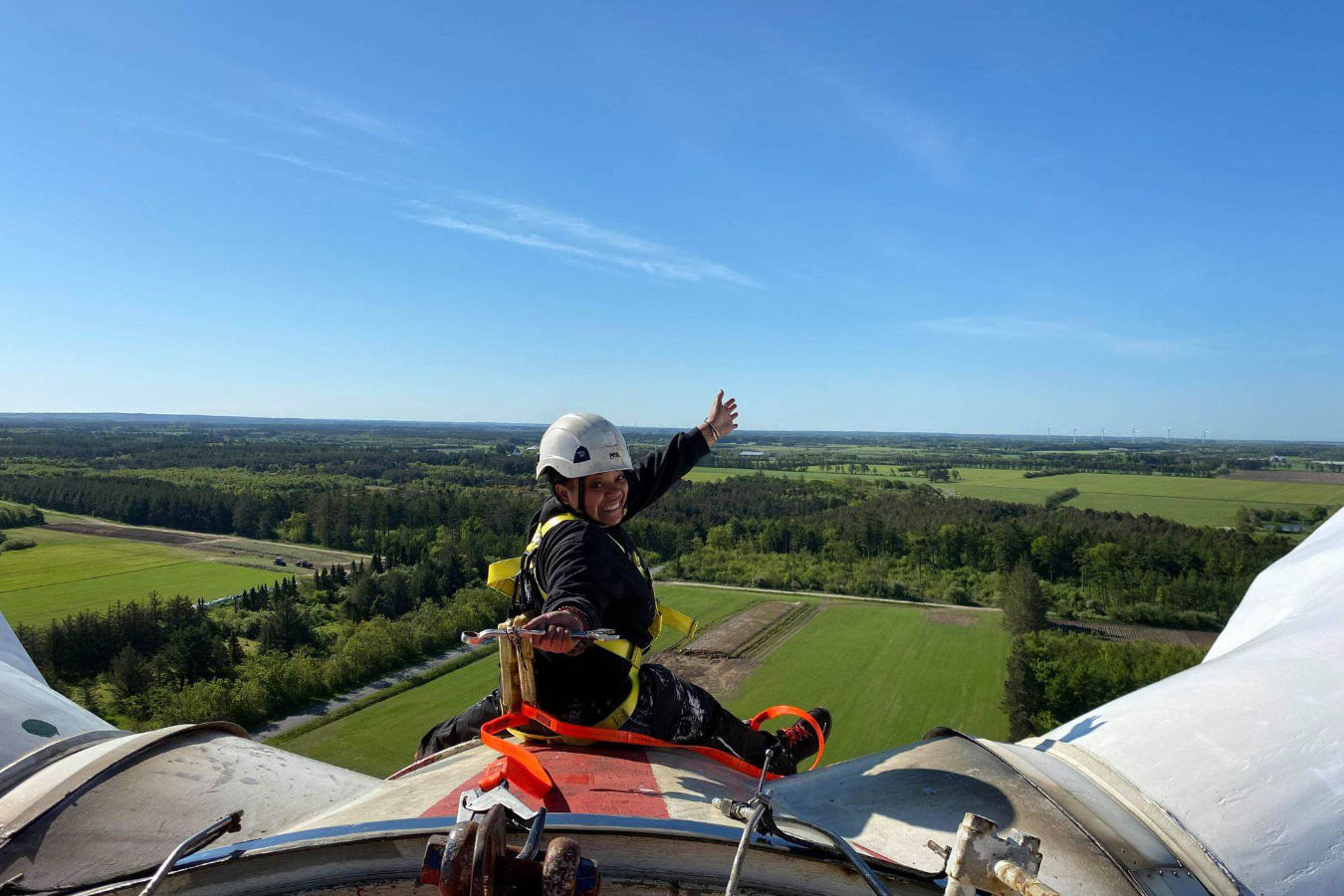 Ana is a young woman from Portugal who has been helping to care for Tvindkraft on and off for the last 5 years. She moved to Denmark five and a half years ago and has been working as a pedagogue and daily leader at PTG, a local international youth college in Tvind, ever since. In her spare time, she helps with various Tvindkraft tasks, such as giving visitors guided tours and assisting with routine wind turbine maintenance. We decided to interview her so that you can get a sense of the people who look after Tvindkraft on a daily basis and keep it running after nearly five decades.
Why did you decided to move to Tvind?
I came here because I wanted to work with children and children with special needs. I fell in love with PTG's "best buddy" concept – we ran our college for special needs youth for many years by integrating scholarship students from all over Europe. The scholarship students would come to us to finish their high school education, and in the meantime, they could share their capacities with our students, assisting them with schoolwork and bringing a lot of life and energy to our campus. With this combination, everyone benefited greatly from the overall experience in terms of growth and development.
How did you come to be a tour guide for Tvindkraft
Britta, the windmill's caretaker, was responsible. She can be quite persistent if you don't know her! For a long time, she kept asking around at our regular lunches for someone who was interested in getting involved with Tvindkraft. In some ways, the windmill is a symbol of togetherness, change, and also of Tvind. Britta was looking for someone to help her show guests around and with maintenance during the winter at the time. After a few days of hearing about the opportunity at lunchtime, I just said: "Okay, let's give it a try!".
I was terrified of going up and down the stairs at first. The wind is really ruffling the turbine… But that was short-lived. Then I was certain: "Okay, I'll assist Alan with the maintenance." Looking back, I realise it was mostly because of Britta's persistence and because I knew Tvindkraft was a symbol that needed to be protected. I didn't knowanything about windmill maintenance back then.
What are the tasks you take care of, exactly?
So being a tour guide is one aspect of it. I can show the windmill to students from the institutions here in Tvind, as well as their families. This is more of a teaching activity. Other times, I show it to those we call the "windmill friends." This can include people from various windmill companies, such as Siemens and Vestas, as well as people who work or study windmills in general. It could also be people who were involved in the construction of Tvindkraft in the 1970s or people who had a connection with this place many years ago and have returned to see how things have changed.
In these cases, we grant permission to approach the windmill's head. I show the visitors around and tell them about the various parts of the windmill. When Tvindkraft is not in use, I can open the hatch and show visitors the view from above. I usually like to talk about how the wind industry evolved at that time. From the top of Tvindkraft, you can see countless modern windmills dotting the landscape. To think that ours was one of the first and that it enabled all of this progress… In my opinion, it is always quite powerful and touching.
Maintenance Wise
Alan, the other windmill caretaker, has been teaching me a variety of tasks. I assist him with tasks that he cannot complete on his own because that is when I can most effectively assist him. It ranges from greasing the blade bearings to climbing outside and changing the anchor bolts (for these tasks, I had to take a high rescue course), to maintaining good cleaning standards, and so on.
Do you have any anecdotes about your work at Tvindkraft?
Yes, there was something amusing! The first time that I went up the windmill to help with maintenance, Alan immediately told me, "There's one important thing: take care not to press the red button." Of course, it was the first thing I did: I accidentally touched it with my shoulder. Because it was an emergency button, the windmill completely stopped, and we had to perform an emergency exit and all sorts of procedures.
I was already known as "the girl who stopped the windmill with her shoulder" by the time I went to work at the windmill for the second time. Alan remembered me that way, and it stuck with me for a long time.
What was a challenge?
People who work in the windmill industry, for example, have been known to panic when travelling up to the head. Because when it's windy and Tvindkraft is active, you can feel strong vibrations, which can be frightening. Of course, learning and getting used to working outside, on top of the windmill's head, was terrifying. Even though I knew I was safe, my entire body shook the first time I went.
But it didn't take long for me to fall in love with my job. To be honest, now that I'm no longer afraid of going up, I feel so liberated when I'm there. The view is breathtaking, and the silence… It's fantastic. Sometimes I'm lucky, and Alan just needs me to be there for security while he works, so I get to sit and enjoy the peace and quiet of the windmill. In the summer, I can see my students working, or pretending to work, in our garden from the windmill's window. Then I can yell at them from above, "Come on, guys!" "I notice you!" It's always a good time.
Do you feel like Tvindkraft means something to you, in particular?
Tvindkraft, but also the atmosphere in Tvind in general, made me think a lot when I first came here. I think I was missing a sense of togetherness, of unity, and hearing the wind turbine story really inspired me. Britta was the one who first told me about how Tvindkraft was created by ordinary people banding together. "We built this together; it took three years and was difficult, but we did it!" You know the story. And it still works 40 years later; it powers our schools! "This demonstrates that we can do it; that we can make a difference if we work together."
It was very moving to hear about this example, and I immediately thought, "I want to be a part of this." This windmill in the countryside of a small country like Denmark symbolises something important. Most people have probably heard of Siemens and Vestas, but few are aware that the initial impetus for the wind industry came from this small red and white windmill that belonged to and still belongs to the people.
It made a significant difference in history, in my opinion. Our Tvind windmill is a big deal, and I am extremely proud to be a part of it. I'll be here as long as I can contribute to its upkeep.
Follow Ana as she gives a guided tour:
Most people have probably heard of Siemens and Vestas, but few are aware that the initial impetus for the wind industry came from this small red and white windmill that belonged to and still belongs to the people.
Tvindkraft is a 54 meters tall wind turbine situated on Denmark's windy west coast. It has used the wind to generate clean electricity since 1978 and is the oldest operational megawatt wind turbine in the world.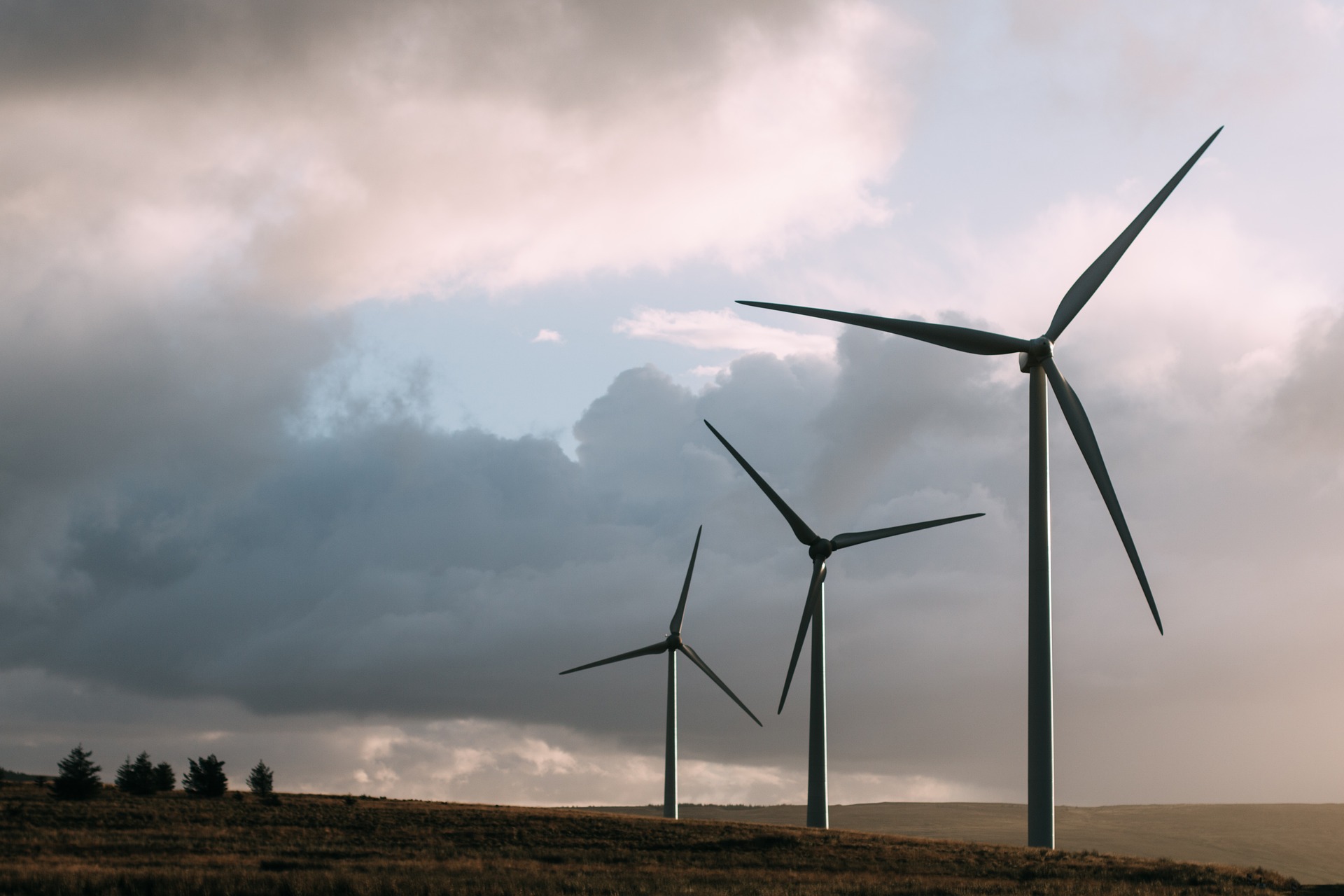 Wind turbines have a high upfront cost in terms of installation, but once they are built, operational costs are relatively low. There is no associated fuel cost; they run off wind, a natural freely accessible resource, and the turbines require little maintenance during their lifetime.
Source: The Renewable Energy Institute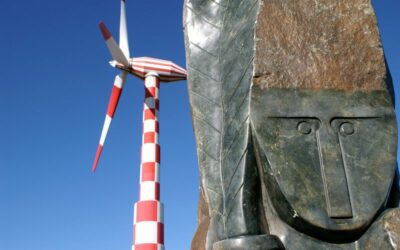 Tvindkraft and the whole story about the people who built it, has inspired people to write songs, poems, and to produce pieces of art of different kinds.